Council of EU challenges pro-transparency ruling – Greece, UK and other member states set to join appeal
Access Info launches campaign calling for governments and MEPs to support EU transparency
21 July 2011 – The Council of the European Union is challenging the pro-transparency decision of the General Court of the European Union in a case won by Access Info Europe on 22 March 2011. Greece and the UK have already sided with the Council and other member states are reported to be considering joining the appeal.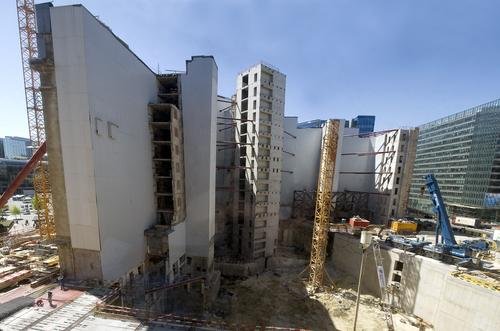 New Council of the European Union Building:
Democracy under Construction?
In the case of Access Info Europe v Council of the European Union (Case T-233/09), the General Court concluded that the Council's practice of releasing documents on legislative negotiations only after blanking out the names of the countries making proposals was illegitimate.
The Court argued that «If citizens are to be able to exercise their democratic rights, they must be in a position to follow in detail the decision-making process» and «to have access to all relevant information.»
The Council, however, is questioning the General Court's reasoning and is seeking to ensure that such information on future legislation remains secret. Over 50% of national legislation originates from the European Union.
Access Info is concerned that a reversal of this ruling will permit greater «policy laundering» by EU Member States. The pro-transparency organisation is today launching a campaign calling on Member States to come out clearly in favour of open decision making.
Open EU Decision Making Campaign – Action Needed!
Click here for a draft letter to send to your government asking them not to join Greece, the UK and the Council in their fight against transparency in the EU.
Click here to send a letter to the UK government, asking why they are fighting against transparency at the EU, given their transparency pledges in the UK.
Click here to send a letter to the Greek government, asking them why they are appealing this ruling despite international recommendations to improve Greece's transparency.
Click here to send a letter to your MEPs (Member of the European Parliament), telling them to condemn the appeal and to stand up for transparency. Click here for a list of your MEPs email addresses by country.