Reprieve calls on Lithuania to re-open 'torture site' inquiry after discovering suspicious flight into Vilnius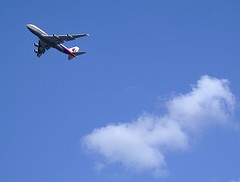 Vilnius, 29 September – Legal action charity Reprieve is demanding that Lithuanian authorities revive their failed inquiry into CIA 'black sites' after a Freedom of Information request – made in conjunction with Access Info Europe – uncovered a mysterious flight into the country's capital during the relevant period. The flight, which was either not noticed or not revealed by Lithuania's two official inquiries into local rendition complicity, demonstrates the inadequacy of previous attempts to get to the bottom of damaging allegations that have been gathering pace over the last two years.
In response to an investigation by ABC News in 2009, a Lithuanian Parliamentary inquiry admitted that, on 18 February 2005, American private jet N787WH had landed briefly in Lithuania en route from Romania. Reprieve and other independent investigators had previously accused both Romania and Lithuania of hosting secret CIA prisons, where alleged terrorists were held incommunicado before transportation to Guantanamo Bay.
Reprieve can now reveal that, only a few hours earlier, a second jet – bizarrely overlooked by the Lithuanian inquiry – flew in to Vilnius International Airport from another known secret prison site: Morocco.
Information received from the Lithuanian Civil Aviation Authority, in response to Reprieve's and Access Info Europe's latest FOI request, shows a suspicious aircraft – identified as N724CL – arriving in Vilnius on 17 February 2005 at 18:03 and leaving at 19:31. The plane departed for Iceland and from there returned to the USA. It had flown into Vilnius after a brief stop in Jordan. Further confidential documents held by Reprieve show that it entered Jordan from Morocco, and that previously it had touched down in the Azores and the Canary Islands.
Crofton Black (Investigator, Reprieve) said: "Lithuania has held two inquiries over the last two years. Far from getting to the bottom of these damaging allegations, they haven't even managed to find out which planes entered and left their country. It's only a matter of time before more such information emerges: the government should finally face up to it and take their responsibilities seriously."
Lydia Medland (Research and Campaigns Coordinator, Access Info Europe) said: "Lithuania has taken a step in the right direction by recognising the right of access to information and releasing flight data under Freedom of Information legislation. Information which relates to the violation of fundamental human rights should never be withheld from the public."
A copy of the Freedom of Information disclosure received from Lithuania can be found here.
Notes to the editors and background information can be found here.
For more information contact:
Reprieve
London
+44 207 427 1088
Research and Campaigns Coordinator
Access Info Europe
Madrid
+34 91 365 2634