Madrid, 20 December 2011: The new crowd-funding platform Goteo on Tuesday presented the first cheque for a successful project to Access Info, which received for €5,150 for a project to build an information request platform in Spain, in anticipation of the new access to information law expected to be adopted in the first half of 2012.
The Goteo platform, whose name makes a reference to the "drop by drop" nature of crowd funding, was launched in November. In just 30 days Access Info received the minimum funding it needs for project, €4,100. At time of writing the total donated was €5,700 and still rising.
The request platform is called Tuderechasaber.es (Yourrighttoknow) and will be built by Spanish programmer and open data activist David Cabo based on the mySociety Alaveteli software already used by Access Info in to build AsktheEU.org.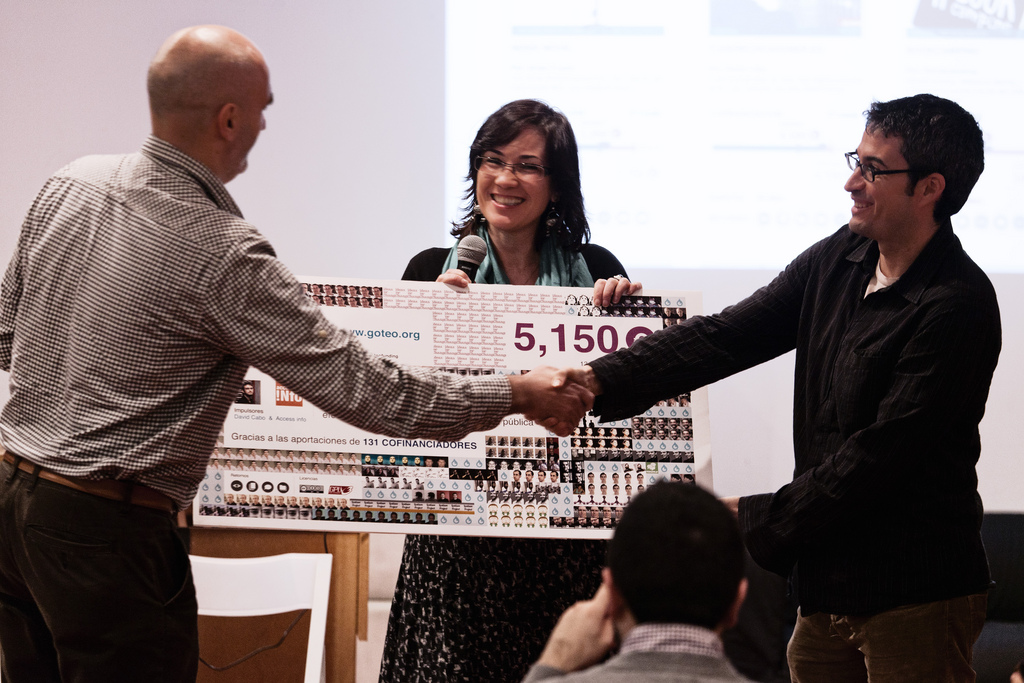 L-R: Enric Senabre of Goteo presents a cheque with the faces of those to donated funds to Helen Darbishire and David Cabo at an event at MediaLab-Prado in Madrid. Photo courtesy of Goteo, more photos avialable here.
Receiving the donation, Helen Darbishire, Executive Director of Access Info, noted that 2011 has seen a rise in activism in Spain and that the contributions to this project demonstrate how members of the public are keen to have a more transparent and accountable government.
The project BookCamping was the other recipient of a Goteo crowd-funded grant on Tuesday 20 December 2011. BookCamping is describes itself as an "open libarary" which was came into being during the 15M protests in Madrid in the summer of 2011.
From its origins as a website where people attending protests can exchanges lists of books about their intellectual inspirations and also suggest what kind of books to bring to share when occupying a public space ("acampada" or camping in Spanish), the BookCamping project aims to become an open source publishing house supporting the production of creative commons books and other cultural material. For more see BookCamping.cc.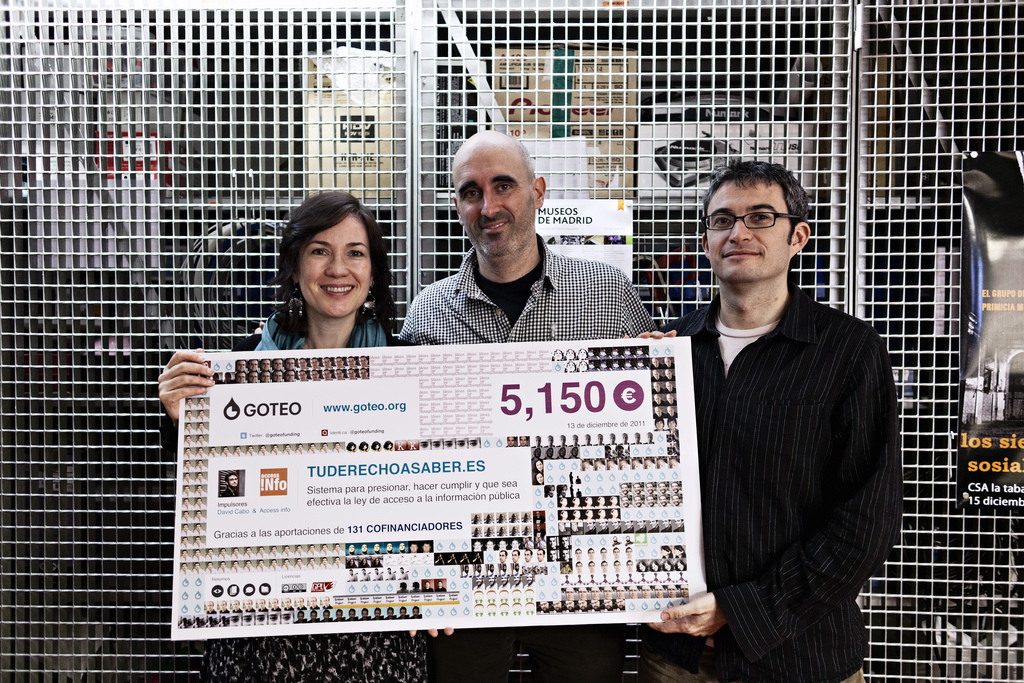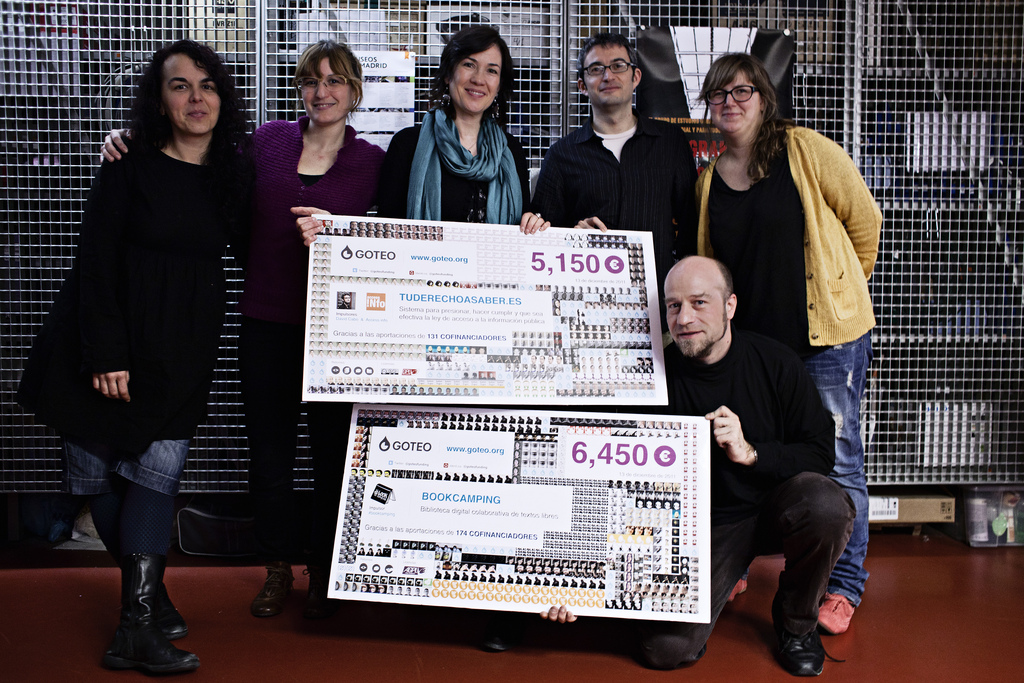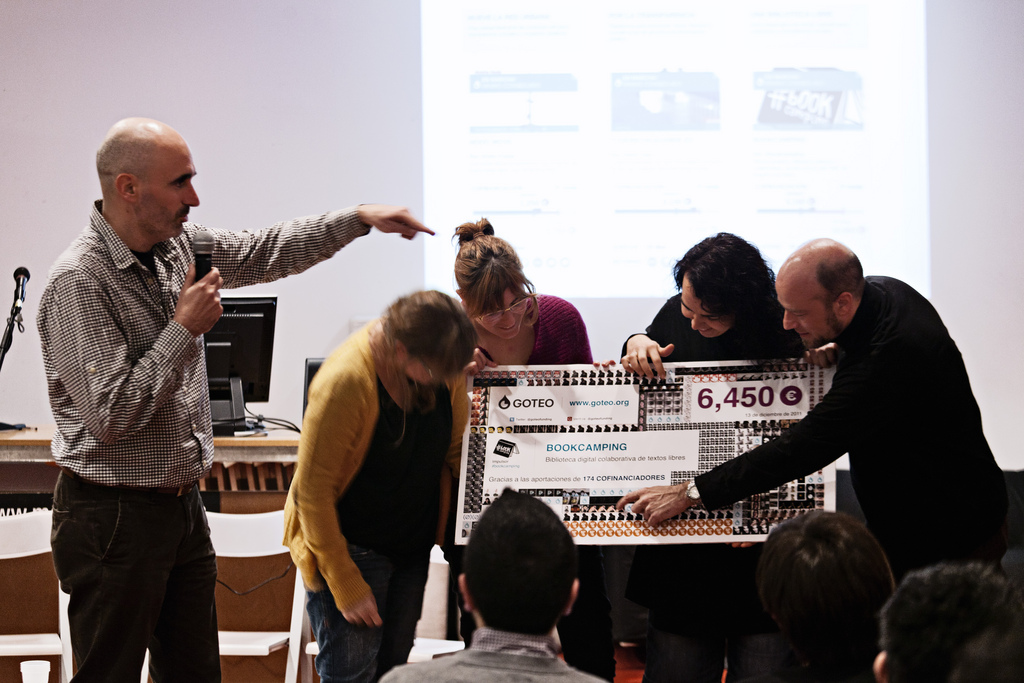 » If you wish to donate to support Access Info's work, please click here