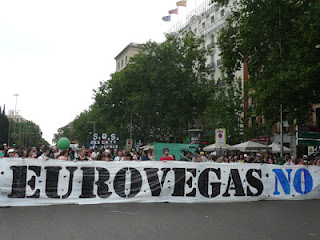 Madrid, 30 May 2012 –  The serious lack of transparency around the proposed massive "Eurovegas" gambling, events and entertainment project was criticised today in a detailed report by the civil society platform "Eurovegas NO", which accuses the Spanish government of violating national and European laws on access to information and public participation.
The report "Eurovegas: a megaproject betting on secrecy" provides concrete examples of the opacity shrouding the tender process which impacts on urban planning as well as economic, social and fiscal policies.
To date, no response has been received to any information request presented to the Madrid regional and town authorities nor those to the Ministry of Industry, Energy and Tourism submitted via the request site www.tuderechoasaber.es.
The Eurovegas NO platform is calling on the Spanish and regional governments to respect the fundamental right of access to information, not yet regulated by law in Spain.
The main conclusions and recommendations presented by the report are that:
»      The autonomous government of Madrid is violating its legal obligation to conduct and publish an environmental impact assessment of the megaconstruction project;
»      None of the reports that allegedly demonstrate the positive impact of the megaconstruction project on employment have been published, and neither has information been provided about the impact of this project on Spain's external debt, or on the costs that it will generate to the Spanish tax-payer;
»      On several occasions, public interest organisations such as Ecologistas en Acción from the South of Madrid and the platform "Stop Eurovegas Alcorcón", have been prevented from asking questions during the plenary sessions at the Alcorcón City Hall.
Furthermore, the report points to possible irregularities in the negotiations with a foreign investor regarding a gambling related project, this sector being subject to specific norms which require that casino licenses be awarded via open and public tender, to which Spanish and European companies can bid.
With the aim of ending the secrecy surrounding the future construction, a citizen living close to the intended site, and member of the platform "Stop Eurovegas", launched a petition today on Change.org which the public can sign to demand access to the evaluations, reports, and impact assessments which legally should have been undertaken and published by national and regional authorities.
In the extraordinary assembly called in Alcorcon, the local municipal government of Madrid which is the prospective site of Eurovegas, the reigning centre-right Popular Party spokesperson justified the lack of information and participation saying that the project is still just "hot air". Hot air or reality, residents are lacking information with which to evaluate the plans. No tangible data or reports are exit to back the project. If Eurovegas is approved and goes ahead it will be, one again, behind the backs of Spanish citizens.
For more information, please contact:
Alicia Costas, e-mail: alicia@access-info.org | tel: + 34 91 365 6558
Ana Revuelta, e-mail: ana.revuelta.alonso@gmail.com | tel: + 34 616 54 60 53