Debate on Lithuanian Nuclear Power Deal Centres on Access to Information
It is unacceptable to shield a nuclear project from Freedom of Information says Access Info Europe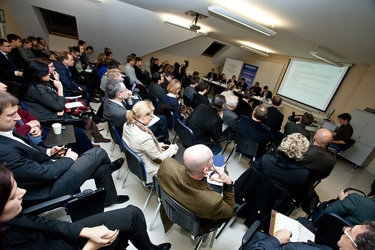 Vilnius, 22 November 2012– At a high-level debate in Lithuania (20 November 2012), Access Info Europe strongly criticised an anti-freedom of information clause in the public-private partnership agreement on the Visaginas nuclear power plant between the government of Lithuania and Hitachi corporation.
Access Info said that the confidentiality provisions represented particularly dangerous practice and risked stifling public debate around the important issue of nuclear power.
Participants in the debate, hosted by Transparency International Lithuania, included an official advisor to the Lithuanian Government, a lawyer for the Lithuanian Visaginas Nuclear Power plant company, representatives from Latvia and Estonia, and a local lawyer. Under discussion was the draft concession agreement negotiated by the outgoing government and approved by a law in the Seimas, the Lithuanian Parliament, which contains a blanket confidentiality clause that violates national and international law on the right of access to information:
"The Parties agree, and the Republic of Lithuania shall ensure, that no member of the public shall be entitled to receive all or any information … in connection with the Project pursuant to any applicable Law relating to or in connection with freedom of information"
Lithuania has two laws governing the right of access to information as well as a law protecting access to environmental information. Lithuania has also signed and ratified the Council of Europe Convention on Access to Official Documents and the Aarhus Convention on Access to Information, Public Participation in Decision-making and Access to Justice in Environmental Matters. A primary concern that emerged during the debate was the validity of the article bearing in mind that contracts do not normally have the ability to take precedent over national laws including laws on access to information.

During the lively debate, Lithuanian lawyer Vilius Bernatonis argued that the agreement could not limit the public's right to information saying, "This is nonsense, this can't happen … this is a promise by the Lithuanian government that it will safeguard something

[information] but this will not change the duties of the Lithuanian government, this will not change Lithuanian law."

Lydia Medland from Access Info commented, "If this agreement does not change the Lithuanian access to information law, then it is a false promise to the Hitachi corporation. Even so, it is a dangerous and unacceptable attempt to limit the public's right to know."

She added, "It is to be hoped that the courts will strike this agreement down, but in the meantime it will cause serious problems for members of the public who wish to request information and limit debate on this vital issue."

Access Info notes that where confidentiality clauses have in the past been used to attempt to shield public-private partnerships from access to information requests, Information Commissioners in various countries have determined that transparency should prevail, and that in all cases requests from the public should be considered for disclosure. International standards on the right to information require that when information may fall under commercial interest exceptions, an assessment of the degree of damage must be made and due consideration should always be given to the public interest in knowing the information.


During the lively debate, company and government officials argued that the debate about nuclear power in Lithuania should not be about transparency, while journalists and members of the public defended their right to raise concerns about transparency, saying that there had been a lack of access to information on important issues such as the price of nuclear power and security and safety provisions during the debate on Nuclear power.

Transparency International Lithuania and Access Info called for more transparency around the process saying that the bigger the project the more efforts should be put into transparency and proactive publication of information to inform the public debate. Access Info notes that the European Court of Human Rights has ruled that the right of access to information is particularly strong when information is need by social watchdogs such as media and civil society organisations to exercise their right to freedom of expression, to participate in public debate, and to hold governments accountable.


For more information contact:

Lydia Medland, Research and Campaigns Coordinator, Access Info Europe

Lydia@access-info.org / +34 607 321 994

Notes for editors:

1. Access Info Europe is an international human rights organization based in Madrid, which works to promote a strong and functioning Right of Access to Information in Europe and globally. http://www.access-info.org/

2. Videos of the event can be found here: http://bambuser.com/v/3162500 and here, http://bambuser.com/v/3162678

3. A copy of the Draft Concession Agreement for the Visaginas Nuclear Power Plant Project can be found here in English: http://www.enmin.lt/lt/naujienos/CA_EN_final.pdf The clause cited in this release is from Part 5, 13.13 of the agreement.

4. The European Court of Human Rights case referred to can be found here: http://cmiskp.echr.coe.int/tkp197/view.asp?action=html&documentId=849278&portal=hbkm&source=externalbydocnumber&table=F69A27FD8FB86142BF01C1166DEA398649

5. The photo used on the Access Info website for this statement was taken by Inga Juodyte more photos of the event are available on the TI Lithuania Facebook page and also via Access Info Europe Facebook.