European Ombudsman investigates Commission's alleged failure to tackle the Revolving Door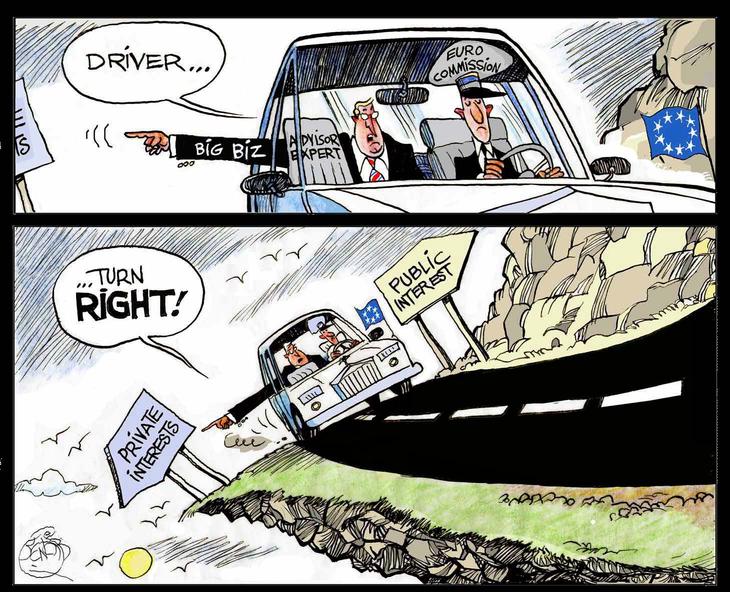 Brussels, 14 February 2013 – Access Info's steering committee colleagues Corporate Europe Observatory, Greenpeace, Lobbycontrol and Spinwatch, have together submitted a complaint to the European Ombudsman about the Commission's repeated refusal to deal adequately with the potential conflicts of interest that could arise from the revolving door phenomenon.
The complaint documents ten high-level cases in which staff rules have been breached, or where the Commission has clearly failed to ensure staff were aware of, or complied with the rules. The organisations that submitted the complaint argue that such cases create a risk of a conflict of interest, as former staff members may be able to exploit their knowledge and inside contacts to the benefit of their new employer, creating a potential for excessive and undue influence. Transparency International has described the "excessive and undue influence of lobbyists in the European corridors of power" as a form of "legal corruption" in one of their reports.
The complaint's submission comes just days after the European Court of Auditors condemned the Commission's agencies for failing to manage conflicts of interest, including those created by the revolving door. The four Commission agencies, which make vital decisions affecting people's health and safety in the areas of aviation, chemicals, food and medicines, were all found to inadequately manage the risk of conflicts of interest.
According to EU rules, for two years after leaving, staff must inform the Commission of their new job posts. If these jobs relate to the work they did as an official, and could lead to a conflict with "the legitimate interests of the institution", the Commission can forbid it or approve it, subject to appropriate conditions or restrictions. The European Ombudsman has now launched an investigation as a result of this complaint, and the Commission will be required to disclose a list of all revolving door cases that have taken place over the last three years. Transparency campaigners have previously been denied access to this list. If there is evidence of systemic failure in the Commission's handling of the revolving door, the Ombudsman could take the exceptional step of launching a more far-reaching own initiative inquiry.
Jorgo Riss, director at Greenpeace EU, said: "The Ombudsman investigation based on our complaint is good news for transparency. For too long, the Commission has turned a blind eye to the conflicts of interest that can arise when EU bureaucrats change job to become lobbyists, or when lobbyists start working in the EU administration. The Ombudsman's investigation should lead the Commission to close the revolving door to private lobbyists who put the public interest at risk."
The complaint

For more information go to:
http://www.alter-eu.org/documents/2012/10/16/commissions-refusal-to-address-revolving-door-problem-triggers-ombudsman
http://www.alter-eu.org/press-releases/2013/02/14/ombudsman-investigates-conflicts-of-interest-via-revolving-door