Missed dead-line and no political will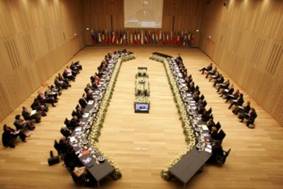 Brussels, 6 May 2013 – The Commission have prepared a State of Play (28/02/2013) outlining what progress had been made since its last State of Play (06/09/2012) and how far it has gone towards meeting the conditions outlined by the European Parliament in terms of preventing industry dominance of these influential advisory groups. However, while the Commission claims civil society has an important role to play in monitoring how it's coming along, it has failed to make the State of Play public. ALTER-EU managed to obtain a copy, and in the name of transparency is publishing it online. After seeing the document, ALTER-EU has now been able to update its own State of Play on how the Commission has been doing, as well as draft a direct response. ALTER-EU also sent a letter of concern to the Vice-president of the European Commission Maroš Šefčovič who is responsible for Inter-Institutional Relations and Administration.
Read together, the main conclusion is that very little progress has been made in meeting the European Parliament's conditions. In light of this, MEPs need to seriously question whether the Commission is taking the right approach to tackling the problem of industry domination of expertise. ALTER-EU has come up with some of its own proposals to tackle the problem, contained within its state of play and its response to the Commission.
31st January 2013. That's the deadline the European Commission gave itself, telling MEPs that by that date, it would act decisively to end the corporate dominance of many of its advisory 'expert groups' within DG Enterprise. The promise was part of a deal made last September with MEPs, who had frozen part of the expert group's budget for almost a year in response to the lack of balance and transparency across the whole Commission. However, a short investigation by ALTER-EU shows the Commission has missed its deadline, and in some cases, expert groups have become even more industry dominated. The Commission was due to meet MEPs in February for an 'informal dialogue' to explain its progress – or lack of – and propose future guidelines. However the meeting was postponed until March. It's clear that extra vigilance and political will are needed if expert groups are to represent all European interests, not just those of big business.
You can read the letter here
For more information go to:
http://www.alter-eu.org/documents/2013/05/joint-civil-society-letter-for-balanced-expert-groups
http://www.alter-eu.org/documents/2013/03/talk-about-expert-groups
http://www.alter-eu.org/videos/2013/02/04/commission-keeps-big-business-in-the-driving-seat