Madrid, 2 June 2013 – Today the Spanish daily El País published an article revealing the government's plans for future lobby regulation in Spain. The main highlights include the creation of an obligatory register of interest representatives, applicable to all those who undertake lobbying activities via-a-vis the upper and lower houses of Parliament. The article also outlines a series of ethics reforms such as the publication of declarations of interest by senior officials or stricter controls over conflicts of interest.
Though the government has not yet released detailed information about its plans to regulate lobbying nor has it published the report written by the Centre for Political and Constitutional Research, Access Info Europe notes three important points with regards to the regulation of lobbying:
– Lobbyists target both legislative and executive branches and in Spain most laws adopted are presented by the government, making it essential that the executive branch be covered by the future Spanish lobby register. It is important not to forget that lobbying can serve to propose changes to decisions or legislation but also to have an impact on the initial decision-making process, regarding which topics are regulated and how.
– It is very important to define who will be obliged to register and what information they will be required to publish. Information such as the names of lobbyists, the interests they represent and the budget employed on lobbying activities, is essential for determining which interests have really had an influence on the decision-making process.
– Apart from the creation of a lobby register, senior officials should proactively publish their agendas and a record of the meetings held with interest representatives in order to permit fuller transparency. This proactive publication should be an obligation under the Spanish transparency law but for the moment it has not been included.
Access Info Europe and ALTER EU have been working together to defend high standards of lobbying transparency in the EU institutions and in the 27 Member States for some years. The table below contains a series of principles or questions which are key to analysing the future Spanish lobby register.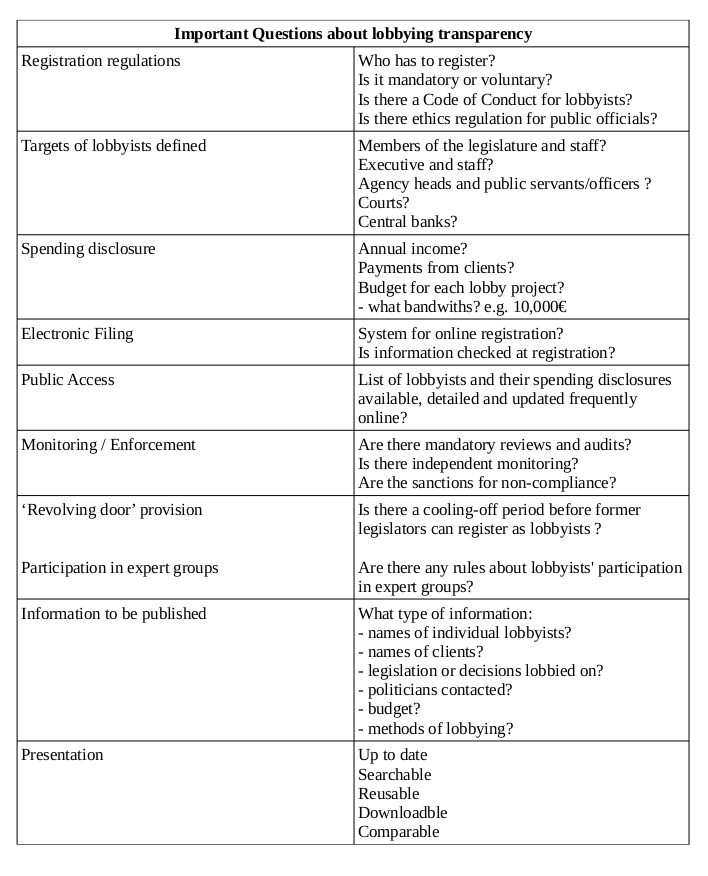 You can also download this table here 

The only countries in the EU with lobby registers are Austria, France, Germany, Lithuania, Poland and Slovenia. Annex I of the Annual Report on the operations of the Transparency Register 2012 provides more details on these registers.