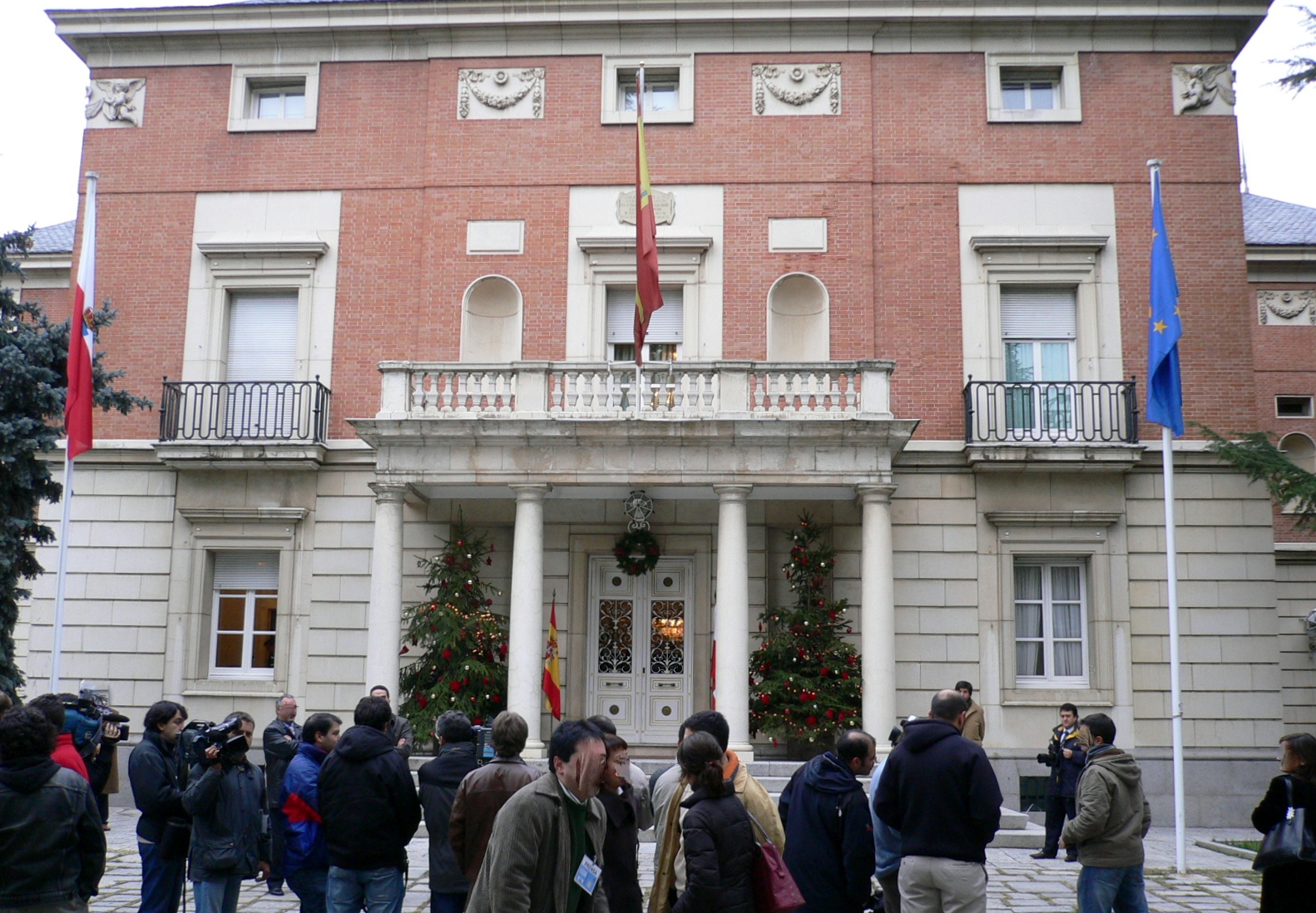 Madrid, 3 April 2014 – Access Info and the Foundation Civio met on Wednesday 2 April 2014 with senior representatives of the Spanish government to discuss a range of transparency issues, including implementation of the access to information law (due to come into force on 10 December 2014), Spain's second Open Government Partnership Action Plan, and moves by the Spanish Parliament to regulate lobbying.
This is the first time in two years that Access Info has had a formal meeting with government representatives to review transparency issues. The meeting was held with State Secretary for Parliamentary Relations, José Luis Ayllón Manso, as well as Eduardo Ribas Steegmann, Parliamentary Relations Cabinet Director, and Esperanza Zambrano, Deputy Director for Legislative Proposals and Parliamentary Documentation. Access Info was represented by Helen Darbishire, Executive Director, and Victoria Anderica, Campaigner. Civio was represented by David Cabo, Director, and Eva Belmonte, Project Director.
One of the most significant issues which arose was that the government confirmed that it is planning to ask all requesters to provide their ID number (or passport number in the case of foreigners) and that requests will only be permited by one single form on the future Transparency Portal.
Access Info and Civio explained the numerous ways in which this not only violates the right of access to information but also will create various practical obstacles, hampering easy communications between members of the public and the administration.
The Government announced that it is expecting to publish the second action plan for the Open Government Partnership by 30 April, and that it will hold a public consultation. Access Info proposed a joint meeting to be organised with the government to discuss questions of public participation.
Details currently in Spanish:
Ley de transparencia
Temas tratados sobre la implementación de la Ley de Transparencia:
· Entregar un DNI para solicitar información: El Gobierno ha explicado que es la única forma de comenzar un procedimiento administrativo y que por lo tanto será obligatorio dar un DNI.
AIE expuso, como viene haciendo desde hace tiempo, que solicitar el DNI para solicitar información es una mala práctica ya que va en contra de la recomendación del Convenio del Consejo de Europa sobre Acceso a documentos Públicos y dar la posibilidad de hacer solicitudes anónimas. Puedes leer nuestro informe al respecto aquí.
· El uso de formularios web para solicitar información: El Gobierno ha comentado que en principio solo se podrá solicitar información por vía telemática a través de los formularios web de cada institución.
AIE y Civio expusieron que el uso de formularios también es una mala práctica y obstaculiza el acceso a la información, puedes leer nuestro análisis sobre este tema aquí.
· Agendas de los altos cargos. El Gobierno de momento no cree que se deban publicar las agendas pero mantuvimos una conversación al respecto y escucharon con atención nuestra defensa de que sí se publiquen. Sí se mostraron más abiertos a publicar el detalle de las reuniones que mantenían, lo cual sería un primer paso importante para la transparencia de lo público y sobre la transparencia de los lobbies.
· Sobre el nivel de detalle de la publicación proactiva de información y el portal de transparencia.
Gobierno Abierto
Sobre el contenido del segundo plan de acción sobre gobierno abierto que España debe publicar próximamente y si tienen pensado abrir una consulta pública sobre el mismo. El Gobierno contestó que el plan de acción ya está casi listo y que será abierto a consulta en las próximas semanas, la idea sería tener un primer borrador el 30 de abril.
AIE aprovechó para proponer la organización de un evento conjunto sobre participación ciudadana en España. La Alianza de Gobiernos Abiertos es una plataforma que pone el acento sobre la necesidad de establecer una colaboración estrecha entre sociedad civil y gobiernos para avanzar hacia políticas de gobierno abierto y este acto sería un ejemplo de ello. El Gobierno se mostró positivo ante esta propuesta y próximamente les haremos llegar una propuesta más concreta.
Lobbies
Por último preguntamos sobre la futura regulación del Lobby en España y en concreto si había ya algún plan sobre cómo hacerlo. El Gobierno contestó que el Congreso está ahora mismo debatiendo la regulación de los lobbies para el poder legislativo pero que no está planeado regular en esta legislatura el Lobby en el poder ejecutivo.
AIE trasladó al gobierno la declaración que hicimos junto con otras organizaciones en la que defendíamos la necesidad de regular el Lobby en España tanto para el poder legislativo como para el poder ejecutivo, se puede leer la declaración aquí.
Access Info Europe enviará información al Gobierno sobre los temas tratados y mantendremos este post actualizado.
Carta que AIE y Civio mandaron al Secretario de Estado para solicitar una reunión.