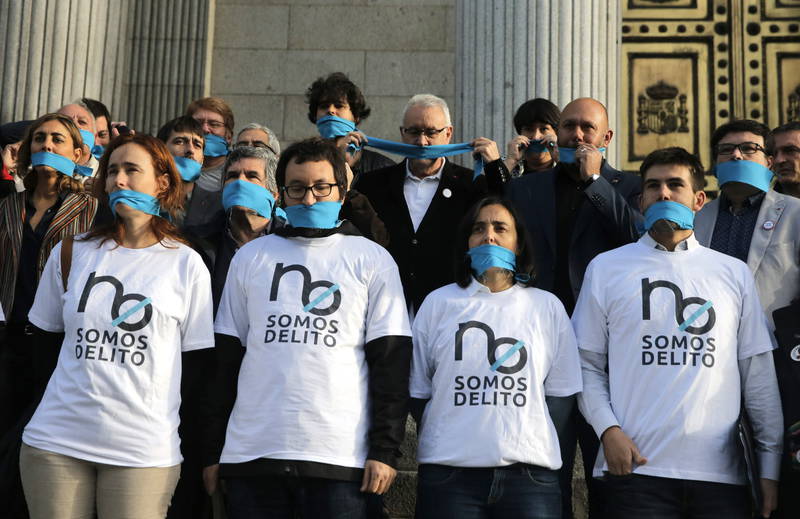 Madrid, 17 October 2014 – The UN Human Rights Committee has been urged to look into violations of freedom of expression and the right to information in Spain in a letter sent by leading international media freedom organisations.
This is the first time that freedom of expression organisations have raised the case of Spain before the UN Human Rights Committee. The signatories of the letter, coordinated by the International Press Institute, are Access Info Europe, AMARC Europe, Article 19, European Federation of Journalists, Free Expression Associates, Reporters Without Borders, and the World Association of Newspapers.
"There is increasing concern that freedom of expression is under threat in Spain" commented Helen Darbishire, Executive Director of Access Info Europe. "We are concerned about the substandard quality of the access to information law and about abuse of defamation laws to intimidate journalists who expose corruption or wrongdoing in government."
The NGOS have called on the UN Human Rights Committee to look into the violations by Spain of its commitments under the International Covenant on Civil and Political Rights. The concerns fall into three broad categories:
» Defamation remains a criminal offense, including protection of public bodies and symbols. In recent years, powerful business and political figures in Spain have turned to defamation laws as way to stifle investigative journalism on serious wrongdoing, including revelations of corruption.
» Lack of independence of media regulation. Spain is the only EU country that does not have a dedicated national independent broadcasting regulator.
» The right of access to information is not recognised in Spain, with the Government having expressly rejected that it forms a fundamental part of the right to freedom of expression in spite of the clear affirmation of this by the UN Human Rights Committee. Spain's new Transparency Law, which will enter into force on 10 December 2014, does not apply to all public bodies, excludes much information held by those bodies it does apply to, and is overseen by a non-independent transparency body.
Access Info Europe noted that the UN Human Rights Committee has recognised that the right of access to information as part of freedom of expression. The standards set by the Committee include that "authorities should provide reasons for any refusal to provide access to information" something which is violated by the Spanish Transparency Law which permits administrative silence by both public authorities and even by the oversight body, the Transparency Council.
You can read a copy of the submission made to the Country Task Force for the UNHRC ICCPR review for Spain in English
, and Spanish
.