2 March 2020 – Access Info today expressed its concern at the high lawyers' bill of €23,700.81 sent by the EU's border agency Frontex to transparency activists Luisa Izuzquiza and Arne Semsrott, after they lost an access to documents case at the Court of Justice of the European Union.
The bill is for outside legal assistance as well as travel costs, although no breakdown of the precise elements has been received. The case related to a request for access to documents about naval operations carried out by Frontex in the Mediterranean as part of border control of trafficking and rescue of migrants. The Court found that the Frontex had been justified in denying access to the information on grounds of protection of public security.
"The concern here is that passing such high legal costs on to citizens exercising a fundamental right will have a chilling effect and stop other people challenging refusals to provide documents in the future," explained Helen Darbishire, Executive Director of Access Info.
Click the picture below and support them. Frontex must drop its money demands!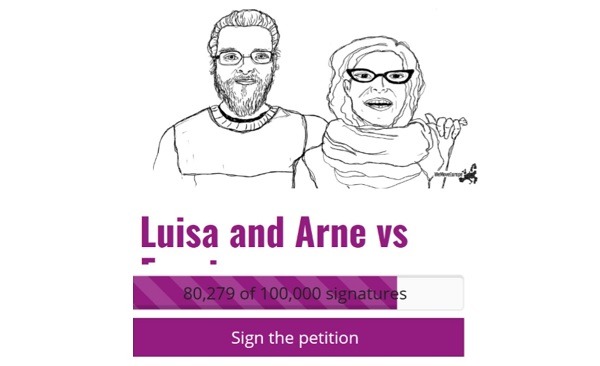 Access Info believes that there should be a cap on the possible legal fees that anyone trying to defend their right of access to documents should have to pay. In that way, the Court can play its important role in deciding whether or not information should be released.
Access Info has both won and lost cases over access to documents, in all cases helping get clarity from the Court of Justice about the precise levels of transparency expected of EU bodies. But in the future Access Info will have to think twice about taking such cases, even if strong ones, because of the risk of having to pay very high legal fees.
"This is the kind of money that NGOs, journalists, and researchers simply can't afford," added Darbishire. "High legal fees deny access to justice and so stop civil society working to ensure the openness of EU bodies."
Access Info noted that while aggrieved requesters have the right to take cases to the European Ombudsman, it is sometimes valuable to get clarity from the Court of Justice of the European Union on precise points of law. It is also sometimes essential as not all bodies comply with the access to documents recommendations made by the Ombudsman.
For more information, please contact:
Helen Darbishire, Executive Director | Access Info Europe
helen@access-info.org +34 637 226 609
Paula Domínguez, Communications Officer | Access Info Europe
paula@access-info.org +34 913 656 55