Information obtained by Access Info Europe as part of the Rendition project with UK NGO Reprieve, using access to information in order to get information on secret CIA flights, has been used by REDRESS and the Human Rights Monitoring Institute (HRMI) to bring to court a complaint calling for an investigation into allegations that Mustafa al-Hawsawi was illegally transferred to and secretly detained and tortured in Lithuania as part of the CIA-led programme.
Access Info Europe together with Reprieve gathered data on flights associated with "extraordinary rendition" – the covert transfer of prisoners by the USA from locations in Europe the Middle East and Asia. Using the right of access to information to investigate the flights, the information on relevant flight data in 28 countries was acquired by the requests submitted to likely holders.
The complaint by REDRESS and HRMI was rejected on 2 October 2013. The NGOs are are appealing this decision in the Lithuanian courts.
Link to the article about Mustafa al-Hawsawi case on the Redress Website.
Global Rendition System Mapping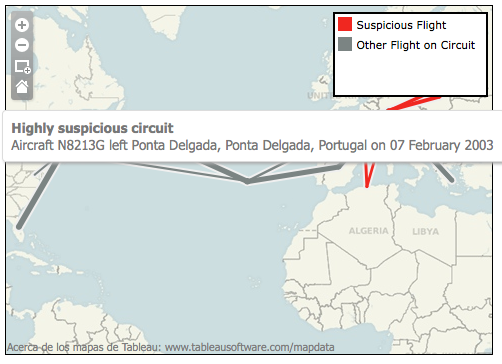 Madrid, 22 May 2013 – Today, the "Global Rendition System" database and interactive map was launched by Access Info's partners, Reprieve and The Global Rendition Project. Much original data included in the mapping was collected by Access Info and Reprieve in the Rendition on Record project, under which access to information requests were submitted to 29 countries and one international organisation. The Global Rendition System database and mapping has been released on the eve of President Obama's major speech on counter-terrorism policy.
The mapping is the most comprehensive resource so far visualising the CIA's programme of renditions and secret prisons as part of the 'war on terror'. The website gives users access to all of the original documents, including those disclosed to Access Info Europe (see data disclosed under Freedom of Information requests, here). The database contains over 11,000 flights by 120+ aircraft linked by past investigations to renditions, and details of over 50 private companies contracted for/by the CIA in relation to rendition flights.
The picture shows a sample filter of the interactive map showing a flight for which Access Info received original documentation from the Portuguese Government on 23 January 2013. See the original response to the Access to Information request here.
Link to the Interactive Mapping on the Global Rendition Project Website.
Link to the Interactive Mapping on the Guardian Data Blog.